Insensation was founded in Switzerland in 1997, expanded to Germany in 2009 and to the USA in 2015.
In North America, we have clients in many states including New York, California, Pennsylvania, Florida, Colorado, New Jersey, Washington, Virginia and Wisconsin and we have also delivered to Canada.  In the USA, we consult and sell to architects, designers, property developers, general contractors and trades people of all types. We deliver nationwide to building sites and to contractors.
In Europe, we have clients in Austria, Belgium, France, Germany, Great Britain, Italy, Lichtenstein, Luxembourg and Switzerland.  In addition to thousands of private clients with extraordinary homes, we have served banks, insurance companies, asset management companies, pension funds, museums, hospitals, doctors, lawyers, local governments, architects and engineers since 1997.
"Excellent service, follow-up and gorgeous products. I'm thrilled how the glass stair on my project really opens up the middle of the house and floods all levels with light. The details are impeccable!"
Lloyd DesBrisay, DesBrisay & Smith Architects, Long Island City, NY, November 2017
Project Price: $10,000 – $49,999




"We really love these stairs. The finished project is excellent. As with anything good if the project is complicated one wants to leave enough time for the right process as we did. We look forward to installing these in future projects."
AMMOR Architecture LLP, New York, NY, March 2016
Project Price: $10,000 – $49,999










"When we found Insensation's aluminum and glass staircase, we knew we had found the perfect staircase to feature in The 2017 New American Home (TNAH). The metal and glass materials complemented the modern design of TNAH and we liked that Insensation could build a custom "reflecting" staircase based on our design and measurements. We placed the staircase in front of a floor to ceiling window to create an architectural element visible from the street. We chose the illuminated treads that look crisp during the daylight and provide an elegant glow in the evenings. Guests who toured the home were "WOWed" by the uniqueness and beauty of the staircase. We were so happy with the staircase that we are designing another for one of our new custom home clients." (Photo by Jeffrey A. Davis Photography)
Phil Kean Design Group, Orlando FL, January 2017
Project Price: more than $100,000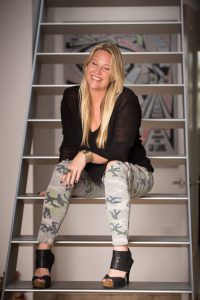 "We LOVE our stair from Insensation…it's gorgeous. We have the machined aluminum version that resembles an airplane wing and we're using it as roof access. The aluminum is great for those times we leave the sliding skylight open and it gets rained on…no rust. The lack of weight is good too…my framer and I were able to install it with just the two of us. Awesome option for a retrofit when you don't want to add excessive weight. Beautiful, beautiful object."
Preen Inc., Los Angeles CA, September 2017
Project Price: $1,000 – $9,999

"I worked and continue to work with this company. excellent quality, amazing work. no problem, professional sellers. amazing products. highly recommend!"
Vesta Construction, New York, NY, February 2017
Project Price: $10,000 – $49,999